ELEKIT TU-8100
PCL86立體聲功率放大器
初學者和發燒友都可以盡情享受,結合精巧的功能,細小美觀之真空管放大器入門套件。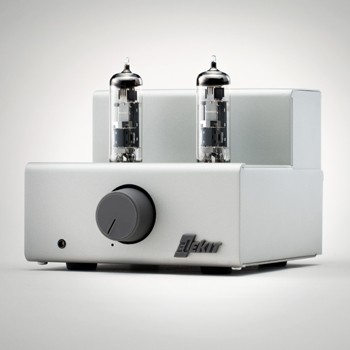 產品概要
使用專為音響設計之3、5極功率真空管* PCL86(14GW8)。
簡單地切換內部底板上的跳線,即可更換使用* ECL86(6GW8)。
外置12VAC火牛(AC100~240V),減少內部電源部件,消除電磁感應引起之『嗡嗡聲』,實現清晰的聲音。
精美細小之外形,只有CD盒般大小,特別適合香港家居環境。
專為首次組裝真空管放大器的顧客設計,獨特電路,易於組裝,易於拆卸且易於維護,完全不需擁有專業焊接經驗,也可完成。
改善後之輸出變壓器單元,配非感應結構的PP薄膜電容。
鍍金RCA插頭,螺絲釘型或蕉形接線頭均可使用。
功率放大器內加設監視功能,遇上輸出管、插座接觸不良、焊接點不良等等異常情況下,通過LED閃爍通知,部分電源會自動關閉。
以高貴金屬顏色作外殼設計(淺灰銀金屬色)
* (資料只供?考之用) PCL86特性與ECL86 (6GW8)大致相同,只有燈絲電壓不同, ECL86燈絲電壓6.3V,PCL86燈絲電壓13.3V。

Kit Set 部件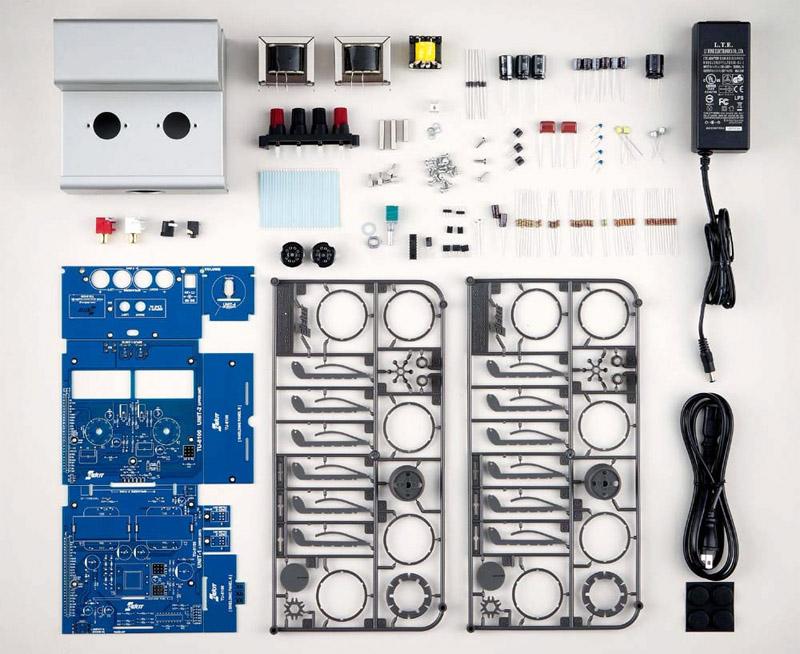 組裝後之底版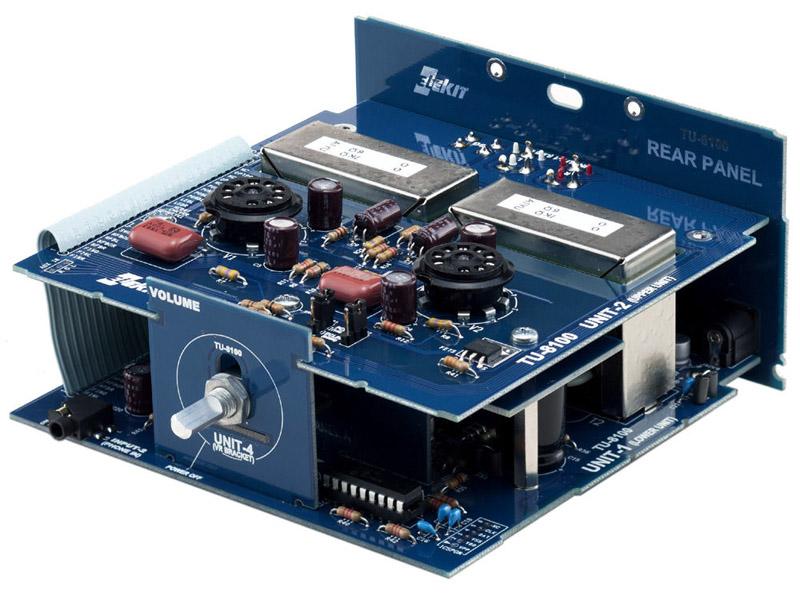 另可以加選配件
(OP-8100)音量旋鈕和機腳,簡單的設計,安裝後,擁有整潔的外觀,精緻又不失高級感覺,使TU-8100融入周圍生活環境。
(PS-3249R)USB-DAC模塊,將數字(digital)數據聲源轉換為模擬信號(analog)播出,可輕鬆安裝在TU-8100中。
(AP-912)2芯屏蔽線,方便在板端子和機體積之間進行佈線,產品長度1m ,芯螺旋結構線為紅色/白色AWG28(0.13 x 7)。

(OP-8100)音量旋鈕和機腳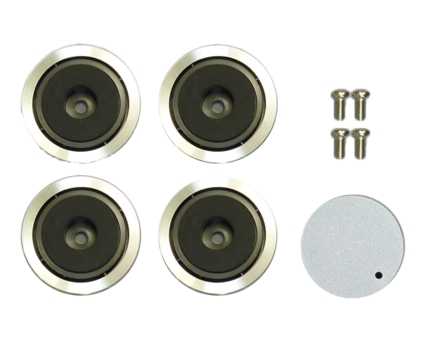 (PS-3249R) USB-DAC模塊,以下有介紹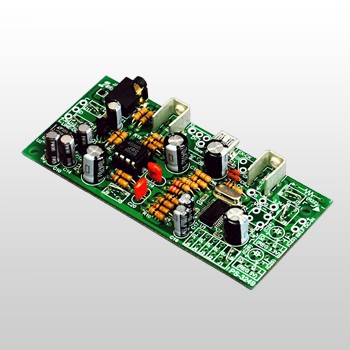 (AP-912) 2芯屏蔽線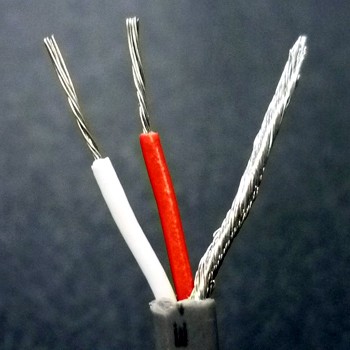 另可選購後安裝USB-DAC(PS-3249R),將數碼信號轉換為模擬信號模組。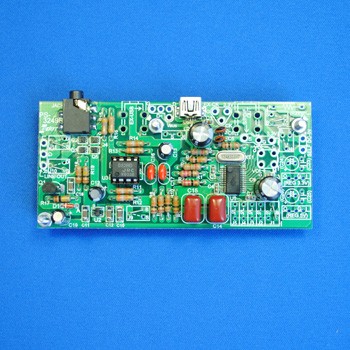 This module converts the digital signal of the sound from PC to analog. Just connect the module to the USB terminal of your PC, then it is automatically recognized - no need of installation. PCM2704C and NJM4580D are adopted for DA converter and OPAmp of the output stage, respectively, for you to enjoy its clear sound. In addition, IC socket is equipped to the OPAmp so that you can exchange the OPAmp with your favorite one to compare the difference in sound.
Moreover, there is a room for function expansion that allows modifications for even better sound quality are embedded by default; I.e., power supply system switching terminal (from USB bus power to self-power system supplied from external source), a terminal to supply an external clock.

SPECIFICATIONS:
- Power supply system: USB bus power (Possible to modify to self-power system to supply external power)
- Operation system: Windows XP or higher, Mac OS X or higher
- USB: 1.1 or 2.0
- Sampling rate: 32kHz, 44.1kHz, 48kHz
- DAC resolution: 16bit
- Output distortion rate: 0.014% (USB bus power)
- Frequency response: 10Hz-22.5kHz (1kHz)
- PCB size: 97x45mm
* The USB input terminal of this module is USB Mini-B. Check the USB terminal of your PC as well. Please prepare a wire with corresponding terminal.
PS-3249 allows the following extensions.
- Change the power supply system from USB bus power to self-power system to supply exterminal power.
- Addition of volume control switch - to enable control of the PC volume from the module by adding a push switch.
- Connection of external clock - Connection of an oscillator with less jitter

產品規格

使用真空管Vacuum Tubes : PCL86(14GW8)×2
額定輸出 Rated Output : 2W + 2W(THD = 10%,1kHz,6Ω負載)
額定輸入 Rated Input : 500mV(INPUT-1:RCA插孔),150mV(INPUT-2:立體聲)迷你插孔)
殘留噪音 Residual Noise : 40μV(IEC加權)
頻率特性 Frequency Response : 23Hz∼33kHz
適用的揚聲器阻抗Speakers Impedance : 4∼8Ω
輸出端子 / 接線端子 Output Terminals: Binding terminals (banana plug usable) 可使用香蕉插頭
主機電源 Supply Voltage : DC12V消耗電流約2A
AC Adapter: 隨機附送AC外置火牛 / 兼容AC100-240V(50-60Hz)
尺寸 Dimensions : W142 x H136 x D178mm (approx.)
重量 Weight : 約1.8kg(不包括AC外置火牛)
成品行貨(TU-8100AS)HK$2,780 (一年自攜保養)
另備:
KIT SET (*TU-8100) HK$1,880 (不提供一年保養) * 參考資料 : 日本定價為26,180日元,砌機費另計,未包含運費。
成品dac版 (TU-8100DACAS) 發售HK$3,080 (一年自攜保養)
(PS-3249R)USB-DAC模塊 HK$300.00

The specifications of the product and prices are subject to change without prior notice.
The color of the product may look different from the actual product.

價格如有更改 ,恕不另行通知。

九龍 新蒲崗 大有街29號 宏基中心1104室
( 鑽石山港鐵車站A2出口步行大約6分鐘,大有街與八達街交界 )
可直接向本公司購買:
1) 請聯絡CNA MUSIC LIMITED購買熱線26044802,確定存貨。

2) 把現金存入本公司提供的銀行帳戶。

3) 帶同存款收據到本公司取貨即可。